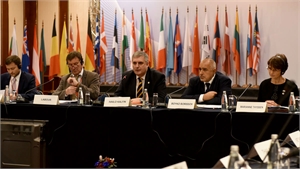 Representatives of 50 states from Europe and Asia are discussing youth employment, sustainable social development, decent work and social protectionat a meeting in Sofia.
"We are hosting the 5th ASEM (Asia-Europe Meeting) Labour and Employment Ministers' Conference - an event of international importance during which countries from Europe and Asia will be discussing issues related to youth employment, sustainable social development, decent work and social protection," Deputy Prime Minister and Minister of Labour and Social Policy Ivaylo Klafin said at the opening of the two-day international forum, held by the Ministry of Labour and Social Policy in Sofia jointly with the European Commission. "Over the next two days, Bulgaria will make use of the opportunity to enhance its international partnership with the other ASEM Member States, to exchange good ideas and further promote the dialogue between the experts in these counties," he further underscored.
The opening of the forum was attended by Prime Minister Boyko Borisov, who highlighted in his speech that Bulgaria had been among the most pro-active supporters of the idea to keep the European Union as open as possible to its Asian partners. "The issues related to youth employment, globalization, working conditions, social protection, which will be discussed today, are some of the major priorities ahead of the Bulgarian government. In many areas we share common issues with our Asian counterparts and great experience, which we can exchange with them," he further stressed. The Prime Minister added that as a EU Member State, Bulgaria would keep working to enhance, strengthen and promote this dialogue.
The European Commissioner for Employment Marianne Thyssen, co-organizer of the forum, highlighted the major challenges ahead of the EU in the field of labour and social policy that are of global proportions and are related to the international division of labour, the changing working environment and ageing of the population. She further stressed that the European Commission had launched an investment plan amounting to more than EUR 300 billion expected to help open more than two million new jobs in the EU Member States.
The 5th ASEM Labour and Employment Ministers' Conference (ASEM-LEMC)is taking place today and tomorrow in Sofia. A joint declaration is to be adopted at the closing of the conference, which will be aimed at improving the working environment and the working conditions in the countries on both continents.